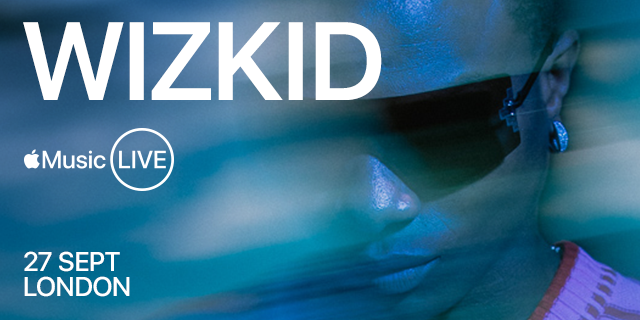 Apple Music Live: Wizkid
For one night only, Wizkid comes to one of London's premier historic venues. Come experience the global Afrobeats superstar at Roundhouse for a live taping on 27 September.
Tuesday, 27 September, 2022
London
You must be located in Greater London to register.
Attendees must be aged 16 years and older.
Let's Get Started
How It Works
Tickets will be provided on a first-come, first-served basis.
Applicants will be added to a waiting list when registration is full.
Successful applicants will receive a ticket for themselves and 1 guest.
Only 1 registration is permitted per person.
Tickets cannot be sold, traded, transferred, or offered for sale.
A government-issued photo-ID will be required to gain entry.
Cameras and recording devices are not permitted at the show. All mobile phones, smart watches and smart glasses will be secured in Yondr pouches inside the venue. Please see the FAQ for further information.
Registration and tickets are subject to the AXS terms and conditions. Duplicate and non-eligible registrations will be removed.
Applicants will be sent an email to claim their tickets. Tickets not claimed within the time stated will be reallocated to other guests.
Tickets are free with no fees.