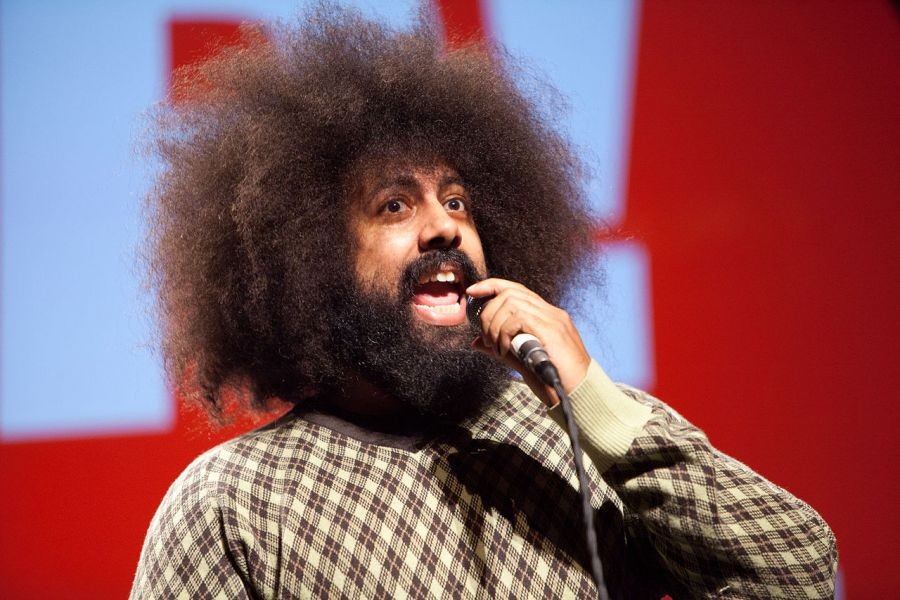 Reggie Watts is a difficult performer to pin down. This is, in part, because of the originality of the work he does, but also because he tends to try new things and shakes it up. When you go to see Reggie Watts, you don't know exactly what you will see, but it will probably be good. On December 19 at 8:00 pm local time at the Jack White Theater at the Masonic Temple in Detroit, those who are curious to see just what he's going to do will get the chance.
With his big afro and bushy beard, Watts has a distinct appearance, and his renown has grown in recent years. A few years ago, he began appearing occasionally on Conan, the TBS talk show of the titular Conan O'Brien, but beyond that, to a certain, smaller audience, he's the sidekick to Scott Aukerman on IFC's Comedy Bang! Bang!, the surrealist and silly faux talk show. It fits Watts' comedic, and musical, personality entirely.
Watts, with his collection of electronic googaws and various engineering equipment, is an accomplished maker of beats and weird, random sounds. He'll construct his melodies with his voice right before your eyes, before improvising over this brand new music. He can rap, he can sing, and he can make weird nonsense noises that sound like words, which is mostly what he does. He's like a musical Sid Caesar for our modern times.
With so much off the cuff stuff at the core of Watts' work, there is always the potential for a show to fall flat. However, given his track record, it probably won't. There's always the chance for some other set pieces or bits of comedic inspiration as well. One need not look further than one of his appearances on Conan where he performed in a faux 80's music video. He's still more musician than comedian, but the comedy is not merely a hobby for him.
Conan and Comedy Bang Bang gives Watts a built in fan base, and those who aren't watching Comedy Bang! Bang! are missing out on some very good, very goofy comedy. However, first and foremost, Watts is a musician, and the chops are there. There will likely be more visual theatrics than for most shows performed by a guy who stands behind some turntables and what have you. Reggie Watts is a unique experience, and those looking for something funny, original, and musically inclined should give him a shot.