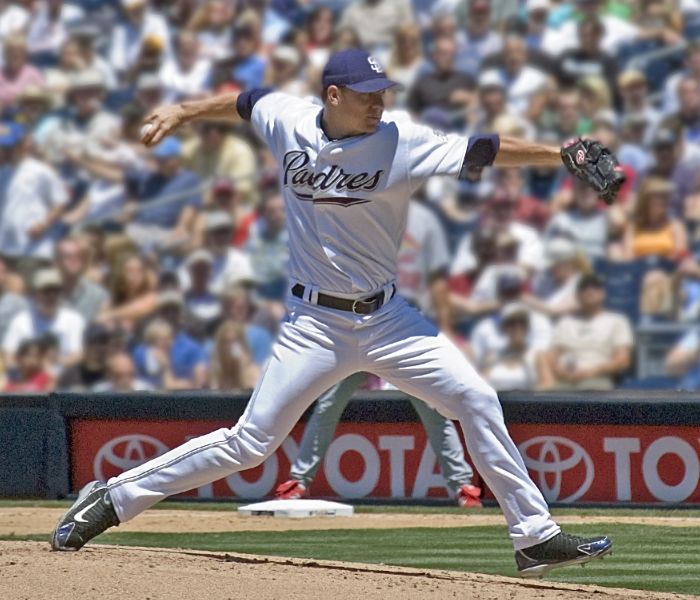 The San Francisco Giants traded for Boston Red Sox pitcher Jake Peavy on Saturday in an effort to shore up their rotation for the final two months of the season as they try to win the National League West and make the MLB playoffs again.
After losing to the rival Los Angeles Dodgers on Friday and Saturday nights by a combined score of 13-1, anything of this nature is good news for the Giants at this point, as S.F. trails L.A. in the division standings by a half a game with Sunday night's game currently in progress.
It's an interesting move for the Giants, as Peavy also was picked up by the Red Sox for a similar use last season. And we all know how that worked out for Boston, even if Peavy himself had little to do with it. The trade really didn't cost the Giants anything significant, either, because if they had any good prospects to give up, they'd have acquired a better pitcher than Peavy.
So this is a low-risk, high-reward type of move for the S.F. organization, something that has actually worked miracles for them in the past.
The former Cy Young winner's best attributes for joining S.F. right now are his relationship with Giants Manager Bruce Bochy and his history in the National League.
Back in 2007, Peavy won the NL Cy Young Award—and the pitching version of Triple Crown—for the San Diego Padres, when Bochy was their manager. That relationship should certainly help the 33-year-old righty improve on his numbers so far this season (1-9, 4.72 ERA).
But the truth is, Peavy hasn't really been the same pitcher since then. In 2009, he was traded from the Padres to the Chicago White Sox, and in the intervening years since then, he's been a pretty average pitcher most of the time: in parts of six seasons in the American League, Peavy posted a 4.13 ERA while winning just 41 of his 80 decisions.
And maybe that's the point: his NL record is much better. Now, this is true for most pitchers, of course, because the designated hitter is not used in the Senior Circuit. But Peavy's splits are kind of steep—he went 92-68 with a 3.29 ERA in eight seasons with the Padres.
True, those seasons were a long time ago, and Peavy really only had one good season in the American League (2012). He was way below average in every other season he spent in the Junior Circuit. It'll be interesting to see if he can find a fountain of youth in the Giants' clubhouse like so many other veterans before him.
However, perhaps the biggest reason S.F. wanted this move so much is this little tidbit: Peavy is 14-2 with a 2.21 ERA in his career against the Dodgers. You really couldn't ask for anything more as a Giants fan than that. Considering Matt Cain—the injured starter Peavy is replacing in the rotation and an S.F. postseason legend—is only 5-11 against L.A. in his career, it's easy to see why the Giants like this move.
But one last warning: Peavy's postseason record isn't very good. He has an 0-3 record with a 9.27 ERA in five career postseason starts spanning just 22.1 innings. So if the Giants do make to October, Peavy isn't the guy they want on the mound in a key game—or any game.
S.F. can worry about that later, though. Right now, they just need to beat the Dodgers.