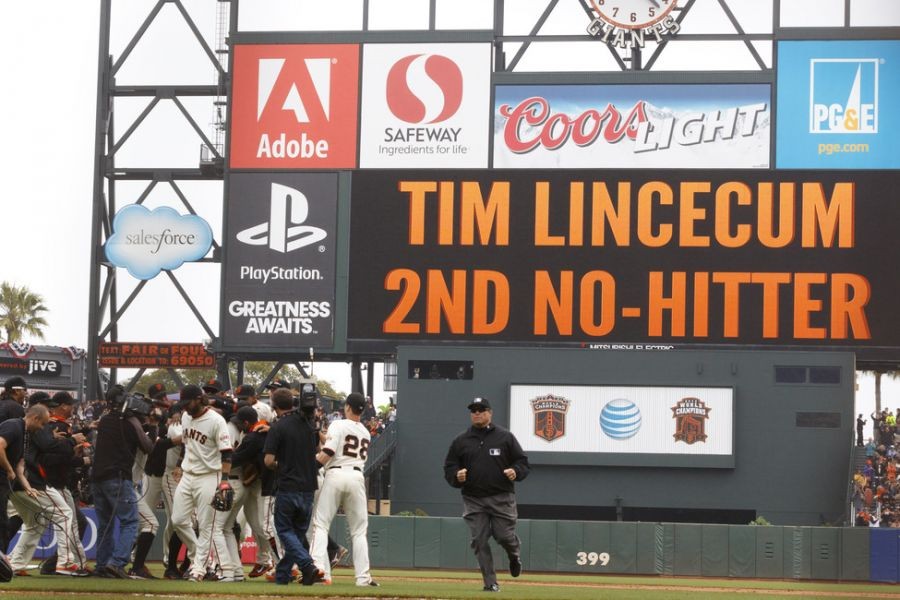 Coming into Wednesday's start against the San Diego Padres, former two-time Cy Young winner Tim Lincecum's ERA+ this season was at the frightening 69 mark. Considering that 100 represents the league-average pitcher, it's clear that the San Francisco Giants veteran hurler isn't having a good season in 2014.
And the Padres had just beaten S.F. starters Matt Cain and Tim Hudson on successive nights—pretty easily, too.
So, of course, Lincecum goes out and throws a no-hitter against San Diego, once again clarifying that baseball is a very weird sport, and we really can't draw too many conclusions about what we think we know about the game. Statistics don't lie, of course, but they don't capture the singular moment.
While Timmy may be stinking it up this year, he certainly had it going Wednesday—and sometimes, that's all that matters. That's actually how the Giants roll: remember when S.F. was dead last in home runs in the 2012 regular season, hitting just 103 round-trippers in 162 games?
Those Giants turned it around in October and hit 14 home runs in 16 games to win the World Series. Again, stats don't lie: that S.F. was lousy at hitting home runs, but in the singular moments of postseason baseball, those same Giants hit home runs and won it all.
Singular moments can come in June, like Lincecum's no-no Wednesday. Or they can come in October, like Pablo Sandoval's swings against Justin Verlander in Game One of that 2012 World Series.
Lincecum's career will forever be defined by a set of doubles now: two Cy Young awards (2008 and 2009), two World Series titles (2010 and 2012), and at least two no-hitters (2013 and 2014). Those singular moments mean more to our memories, perhaps, than the overall statistical weight of Lincecum's career will mean to our grandchildren looking back at stat lines on a digital display in their GooglePlexiGlass (or whatever it will be called).
They will see Lincecum's amazing Cy Young seasons followed by two good seasons—followed by three terrible seasons, including this one. Because despite today's efforts, again, the stats don't lie. His is a career in decline.
But Giants fans will have a lot of good memories to convince them otherwise down the line: Tim Lincecum, S.F. Giants legend.
And nothing can ever change that, even if he pitches as terribly for the next ten years.