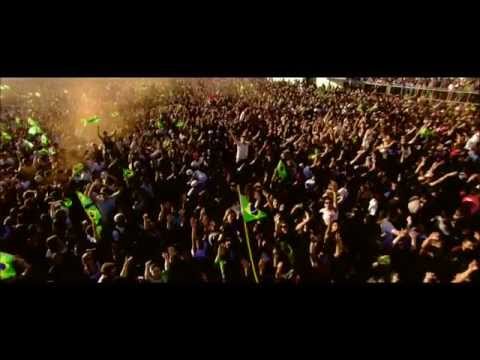 Tomorrowland
As the first weekend of Tomorrowland's 10-year anniversary celebration came to a close on Sunday July 20, Grammy Award-winning artist and headlining performer David Guetta announced that the world-renowned festival will be expanding in 2015 with the global premiere of Tomorrowland Brazil, which is set to take place in São Paolo on May 1-3 of 2015. The announcement which was made over a live video broadcast between the main stage in Boom, Belgium and an audience of 10,000 in São Paolo, Brazil, was one that the country has been hoping for due to its long-standing support and ticket demand for the festival. Encompassing 1.4 million Brazilian fans across social media, the live broadcast of Tomorrowland's announcement alone sold out in less than one hour which took place in São Paolo.
This will mark the second global expansion of the Tomorrowland festival with its first being with its North American counterpart, TomorrowWorld. Taking place in September of 2013, the North American recreation welcomed more than 120,000 visitors from over 75 different countries and descended upon Chattahoochee Hills just outside of Atlanta, Georgia. The second edition of TomorrowWorld, America's largest 21-and-over music festival will be held in the same location on Sept. 26-28 of 2014.
Boasting an incredible lineup of headlining artists, TomorrowWorld 2014 will be welcoming (listed alphabetically): Avicii, Bassnectar, David Guetta, Dimitri Vegas and Like Mike, Diplo, Kaskade, Martin Garrix, Richie Hawtin, Nicky Romero, Skrillex, Steve Aoki, Tiesto, and Zedd to its main stage including numerous others still yet to be announced. Other notable artists set to appear include: Borgeous, The Chainsmokers, DVBBS, Dyro, John Digweed, MAKJ, Morgan Page, TJR, and Swanky Tunes.
For more information on TomorrowWorld, fans can visit the festival's official webpage at: TomorrowWorld.com. In order to purchase tickets for Tomorrowland Brazil, pre-registration will be required. Fans can pre-register now via TomorrowlandBrasil.com up until Sept. 5. Actual ticket sales for Tomorrowland Brazil will begin on Sept. 6, 2014.
Considered to be one of the best festivals in the world, Tomomorrowland is an internationally acclaimed festival held in Belgium that welcomes travelers from the around the world each year. Representing over 92 nations in 2013, Tomorrowland is easily considered to be the United Nations of festivals as fans notably brandish flags from their origin. Due the surging demand of tickets in 2013 which reportedly sold out in a second, the festival doubled its size in capacity this year welcoming 360,000 travelers. 2014 will mark a first for the festival with its expansion of an additional weekend in July on the 18-20 and the 25-27.