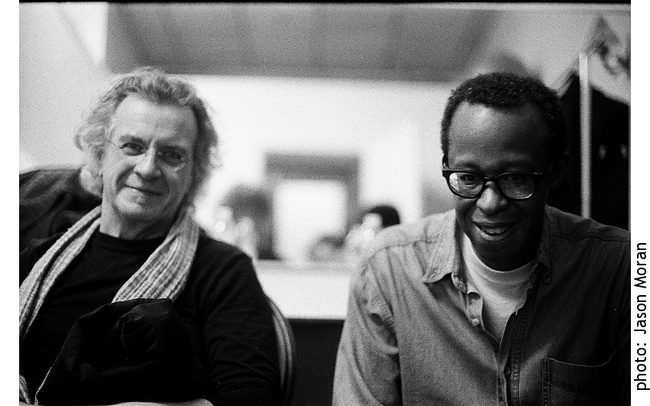 Creative Music Works (CMW) and Denver's Dazzle Jazz announced in a press release June 28 that celebrated pianist and jazz innovator Matthew Shipp along with his long-time partner in music Michael Bisio (bass) will perform Saturday, July 25 for two shows at Dazzle Restaurant and Lounge. Shows will begin at 7 and 9 PM. Tickets can be bought at Dazzle's page for the event.
The music that Shipp and Bisio create together incorporates many musical styles and is often considered avant-garde. "...the jazz avant-garde seems like you can incorporate anything into it, like a melting pot, within your own style. I personally have grown up listening to a lot of different things and have been influenced by a lot of different things. I approach the music as music, not as the various genres. So, I'm not trying to make a music that's a mixture of this or that, but a lot of this or that is in it," explained Matthew Shipp in an interview with Perfect Sound Forever.
"The point where the Spirit and letter of the tradition meet is where Matthew and I begin," Michael Bisio explains. "There is no other artist I feel so in tune with. Conceptually, I think our mentors fostered very similar aesthetics: to know what was, find your own voice, and if possible, move this music forward. For us there was never a choice between being jazz musicians or creative ones….They are the same thing!"
Shipp and Bisio feel that their music speaks for itself. Others have described their work together as "stunning," "free-jazz, but full of melody," "dense, emotional, and full of quotes and allusions." The duo's music is informed by jazz greats such as Duke Ellington, Bud Powell, Thelonious Monk, Cecil Taylor, free jazz, blues and classical musicians, too. However, the two players are not bound by any of the genres that inform them and they always seem to be incorporating music from just about everywhere, unafraid of new musical experiences just as much as they are fearless in fluidly creating new music in their improvisational performances.
Matthew Shipp, named Pitchfork 2014 experimental artist of the year, has played with many great jazz artists such as David S. Ware, William Parker and Roscoe Mitchell but he has also collaborated with experimental artists in other genres, such as DJ Spooky and Hprizm. He's been a bandleader and a sideman, recording more than 50 albums over the span of his career. CMW describes his playing as lyrical and introspective "and fully of the 21st century."
Not unlike Shipp, bassist Michael Bisio is prolific. He has played on more than 70 albums over the span of his career, recording and playing with the likes of Joe McPhee, Tomas Ulrich, Wayne Horvitz, DJ Spooky, Ivo Perelman and many, many more. He has been described by Tomajazz.com as "a poet of the contrabass," who plays music that is "produced by sorcery," according to Cadence Magazine.
In an exclusive interview via email, Michael Bisio took some time to answer a few questions for fans. Below are some answers on what to expect on July 25, as well as some news bits of upcoming work from both artists.
What does it feel like when you are playing?
Carter Jefferson, the late/great saxophonist, described musical feel as fire. He was referring to fire in all its hues from cool blue to red hot and always burning. Feeling has as wide a range as the music and those two things are inseparable.
What are some of the responses from your audiences about your music?
I will tell you my favorite. It is always from an audience member who was dragged to the concert kicking and screaming (hopefully by a friend). I have heard from various people [who had come kicking and screaming] "I didn't even know I liked this music until I heard you guys!"
Do you have any new CDs that you are promoting or bringing with you?
We will have Floating Ice with us which is our duo effort on Relative Pitch Records. Out this year are The Gospel According to Matthew and Michael (Relative Pitch) featuring the incredible Mat Maneri on viola and To Duke (RogueArt) with the Matthew Shipp Trio. These albums will also be on hand. We have more information about all of these on our recordings page.
Do you have any other upcoming news that you would like amplified?
Right before we come to Denver, the Matthew Shipp Trio will be performing at Vision Fest XX. It's truly an historic event. In August, Jazz at Lincoln Center will produce a video based on The Gospel According to Matthew and Michael. In September, we'll see the release of Michael Bisio Accortet (Relative Pitch) featuring Denver's own Kirk Knuffke. In October, The Conduct of Jazz (Thirsty Ear) which features the Matthew Shipp Trio and introduces our new drummer Newman Taylor Baker will release. Then, in the fall the Shipp/Bisio duo hits the road again with dates in Boston, Chicago, Philadelphia, Minneapolis and more. Also, tentatively, the Shipp/Bisio duo will have an LP called Live at The Church (Vinyl Revolution) before year's end or early 2016. The album was recorded in Seattle, WA on International Jazz Day 2015.