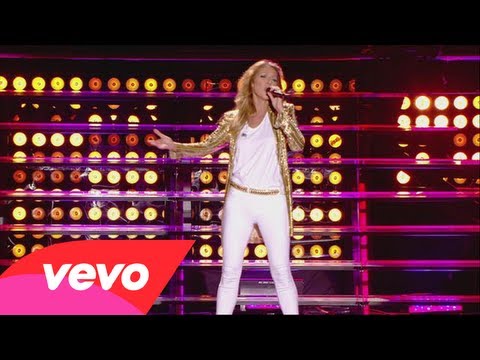 Sony
Celine Dion has added a new string of dates to her second record-breaking residency at The Colosseum at Caesars Palace in Las Vegas. The five-time Grammy winner's latest extension will push her ongoing run at The Colosseum into 2015.
According to a news release posted June 17 courtesy of Pollstar.com, the Canadian international superstar has announced 31 new shows, which will run from Dec. 30, 2014 - March 22, 2015. Tickets for the new performances go on sale beginning Sat., June 21 at 10:00 a.m. PST. Tickets will range in price from $55 - $250 (plus applicable fees) and can be purchased at AXS.com. See below for a full list of dates.
The multi-platinum selling singer made the announcement in celebration of the 200th show of her current run, performed on June 17 at The Colosseum. The "My Heart Will Go On" hitmaker began her latest Caesar's Palace residency, simply titled "Celine," on March 15, 2011. Originally signing on to perform 70 shows a year for 3 years, the show was seen by over 200,000 people in its first year and became the No. 1 show in North America in 2011. Pollstar year end statistics for 2013 show the eye-popping spectacle grossed $116.5 million and played to over 725,000 fans from 2011-2013. Tickets for Celine Dion's summer 2014 performances at The Colosseum are currently on-sale and can be purchased at here.
The diva's first Las Vegas residency, "A New Day – Live in Vegas 2003-07," ended on Dec. 15, 2007, after a 5 year run of more than 700 shows and 3 million spectators. The record breaking spectacle accumulated a total gross of $400 million, making it one of the highest box office shows in history.
Directed by long-time GRAMMYs producer Ken Ehrlich, the new show features a 31-piece orchestra and includes Dion's biggest hits mixed with timeless classics that pay tribute to some of the most celebrated songs and artists of all time. Critics have described the show as "a magnificent masterpiece" and jaw-dropping!"
Celine Dion's newly-announced Las Vegas show dates at The Colosseum at Caesars Palace include:
Dec. (2014): 30, 31
Jan. (2015): 2, 3, 7, 10, 11, 13, 14, 17, 18, 20, 21, 23, 24
Feb. (2015): 24, 25, 27, 28
March (2015): 3, 4, 6, 7, 10, 11, 13, 14, 17, 18, 21, 22