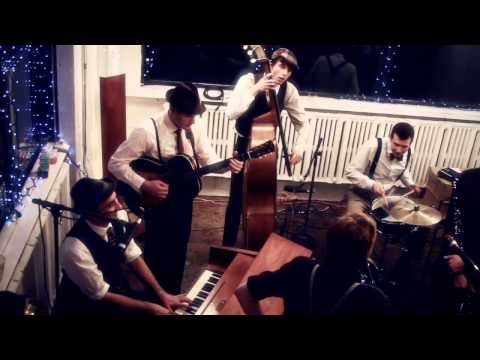 PopMatters
As soon as people hear those unmistakable horns beckoning and loud, boisterous voices sounding in accord, they know they're in for quite a party with quite the hosts.
The Hot Sardines are a crowd favorite, all about liquor, jazz and the unexpected. In other words, a perfect fit for Bria Skonberg's second annual, 12-hour, non-stop New York Hot Jazz Festival this Sunday. In its second successful year, the festival brings the ultimate party band to Manhattan's Players Club-Ballroom (16 Gramercy Park South) 2:45 p.m.-3:45 p.m.
The story of the Hot Sardines is as bizarre and as kismet as it gets. The lead singer, a Parisian hottie by the name of Miz Elizabeth Bougerol and Stride piano player and bandleader Evan "Bibs" Palazzo first met at a jam session they both learned about on Craigslist. The jam session took place above a noodle shop on Manhattan's 49th Street. There, Bougerol and Palazzo realized a need for a band that would dare reach back for the hot jazz of the 1920s-'40s and turn that sacred music on its ear.
The eight members of the Hot Sardines dusted off the traditional jazz artifact nobody really bothered with anymore, and played the hell out of it. Palazzo and Bougerol agreed that it was time to dive in there instead of pass up such a "living, breathing, always-evolving thing," like every other jazz band seemed to be doing in favor of the newer fusions out there. Most people, "they handle [the music of that time period] with kid gloves, like pieces in a museum," Palazzo said. Not these guys.
The Hot Sardines recognized the fun playfulness inherent in such timeless music, making the most of their time together, whether the gig was nothing much or everything at once. They started playing at a Queens coffee shop on the last Q train stop. Before long, they were selling out Joe's Pub, holding down the Shanghai Mermaid speakeasy and The Standard, shutting down Lincoln Center's Midsummer Night Swing, outshining the acts they opened for and opening eyes. Later on this month, they'll be the main event with the Boston Pops at Symphony Hall, play Montreal Jazz Festival this summer, and embark on their first national tour.
Check out the 2014 New York Hot Jazz Festival schedule for updates
Forbes named the Hot Sardines "one of the best jazz bands in New York today." Try quite possibly the world. They're different, alright. Miz Elizabeth tried to explain the phenomenon: "Everything's kind of being rewritten. And when nothing makes sense, there's something real and satisfying about going to hear raucous jazz played in a dancehall with wooden floors and brown liquor." These are the musicians who can pull it off.
Their sound is unlike any other band. Picture wartime Paris by way of New Orleans, but here and now, with big brass and overlaid rhythms recalling Louis Armstrong and Django Reinhardt, funky Fats Waller Stride Piano, a lotta swooning Dixieland, that voice of Miz Elizabeth's — time out of mind, welcoming and impudent at once — and tap dancing on the bar.
Tap dancing?! See for yourself.