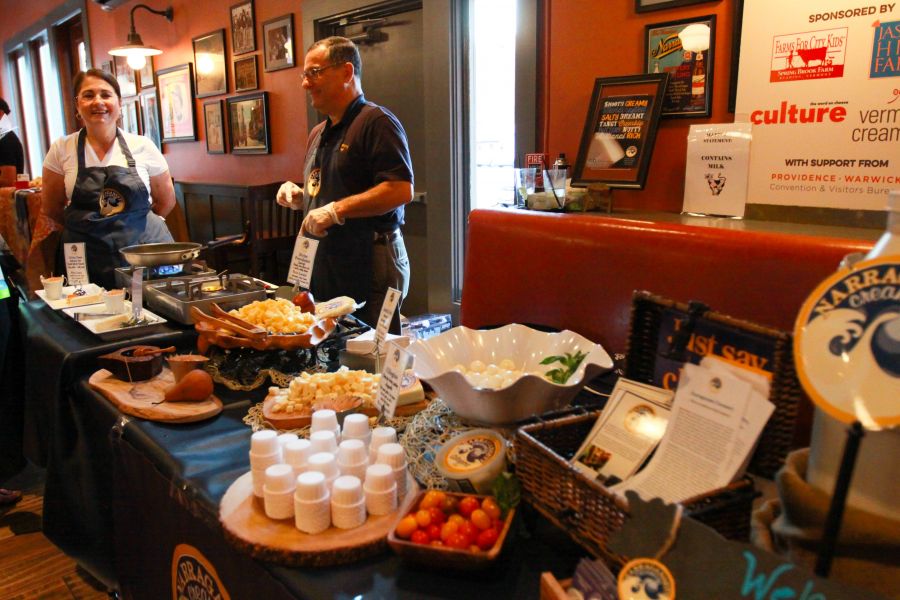 Stephanie Rose Csaszar
The American Cheese Society Cheese Crawl was a huge success in downtown Providence on Wednesday, July 29. Cheese Crawl was the first public event to kick off the ACS Cheese Camp and it was one of the few events open to the public. Cheesemakers, vendors and other cheese lovers were able to visit a number of local bars in whatever order they pleased including Union Station Brewery, Murphy's Deli and Bar, Providence Coal Fired Pizza, and the Trinity Brewhouse.
At Union Station Brewery Cato Corner Farm had two samples. One of the samples was a nutty and firm yet fruity cheese called Bloomsday. The other sample was a soft and ripe cheese called Hooligan. Later on the Cheese Crawl Grey Barn and Farm offered samples of three different cheeses. The first, Prufrock, is a deep, earthy cheese infused with hard cider and a meaty and buttery flavor. The second, Eidolon, has hints of mushroom and ripened fruit. The last sample, Bluebird, is a sweet velvety cream paste of a cheese.
Out of all the cheesemakers Narragansett Creamery stood out the most for their flavors and personality. Their smoked mozzarella, nutty Atwell's Gold, and addicting Mediterranean Style Grilling Cheese were phenomenal. Mark and Pattie Federico are part of a family that have been making heartfelt food for generations and by talking to them for only a few minutes it's easy to see the passion and love they have for cheese. ACS Cheese Crawl gave cheese lovers from all across the country a taste of the Ocean State.
Murray's Cheese Truck was spotted outside of Trinity Brewhouse as well as patrons eating cheese and drinking cold beers on a perfect summer night in Providence. This wasn't the only opportunity for cheese enthusiasts to try cheeses from across the country. ACS Cheese Camp's Festival of Cheese was a hit on Saturday, August 1 at the Rhode Island Convention Center. The cheese sale did not have an admission and gave patrons and opportunity to buy cheese from cheesemakers from all over the country. The ACS cheese sale took place on Sunday, August 2. For a state that only had one creamery for a long time it has been an honor to have the ACS Competition and Conference in Providence.