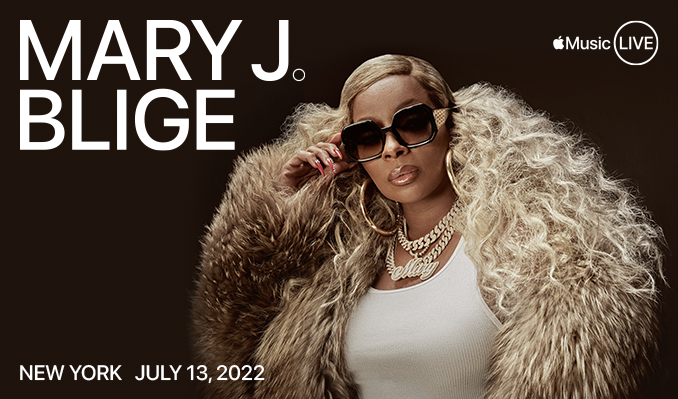 Apple Music Live: Mary J. Blige
For one night only, Mary J. Blige is live in New York for an appreciation of her life in song. Come experience Mary with a night of music and storytelling at a live taping on July 13, then watch the show exclusively on Apple Music on July 27.
Wednesday, July 13, 2022
Manhattan, NY
Ticket registration is now closed. Successful applicants will be notified between July 6-12.
HOW IT WORKS
IN BRIEF, HERE'S HOW IT WORKS
Tickets will be provided on a first-come first-served basis.
Applicants will be added to a waiting list when registration is full.
Successful applicants will receive a ticket for themselves and 1 guest; you must arrive at the venue together.
Only 1 registration is permitted per person.
Tickets cannot be sold, traded, transferred, or offered for sale.
Attendees must be aged 16 years and older.
MORE INFO
Registration and tickets are subject to the AXS terms and conditions. Duplicate and non-eligible registrations will be removed.
Applicants will be sent an email to claim their tickets. Tickets not claimed within the time stated will be reallocated to other guests.
Tickets are free with no fees.
An AXS account is required for ticket registration.
You must be located in New York to register.