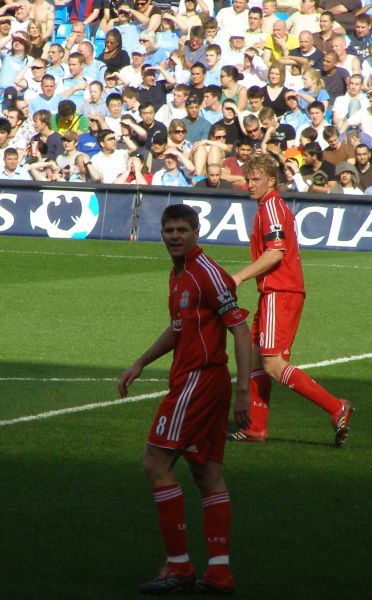 Manchester City against Liverpool FC will be a match to see for the Guinness International Champions Cup set to be played at Yankee Stadium for July 30. This will be the ultimate English Premier League clash on US soil for Group B of the International Champions Cup.
Man City
Man City is the current Barclay's English Premier League Champion and will try to prove it once more in the USA. City broke even with Liverpool during the 2013-2014 season in English with each winning a game at their respective home stadium. This match in the US for the International Champions Cup will the tie breaker. Man City has also won the English Premier League title twice in three years, so this Manchester team is one to reckon with and it will be difficult for Liverpool to defeat.
Liverpool FC
Last year in the English League, the Reds came in second place. Yes, right behind Man City. It was tough for the Reds as they were predicted to take it until the last few weeks of the English league season. Man City slipped into their spot and now the Reds are out to get even. Group B will be tough for the International Champions Cup, as Manchester City is predicted to win it, but the Reds can put a stop to that if things are played out right.
Who to Watch
The two forwards to watch for Man City are Argentine Sergio Aguero and Spaniard Alvaro Negredo. These two are the ones who will be doing most of the scoring for City. The midfielders to watch are Ivorian Yaya Toure, Spaniard David Silva, and French player Samir Nasri. These three will be doing all the playmaking as well as some of the scoring. Goalkeeper Joe Hart is another player to watch, as this guy knows how to make all the stops.
The main guy to watch for Liverpool FC is English midfielder Steven Gerrard. He's led this team for many years, and his experience will show on the day of this match against City on American soil. Another outstanding player to watch is English striker Daniel Sturridge. This kid was in the 2014 World Cup with the English squad and scored a goal against Italy.
The Winner
Manchester City is the most likely favorite here. The predicted score will be 2-1 in favor of City. Why the low scoring? Well, English soccer tends to lead that way, especially with these two having that particular history. However, Liverpool FC could turn things around, especially after coming in second place after Man City for the English Premier League last season.