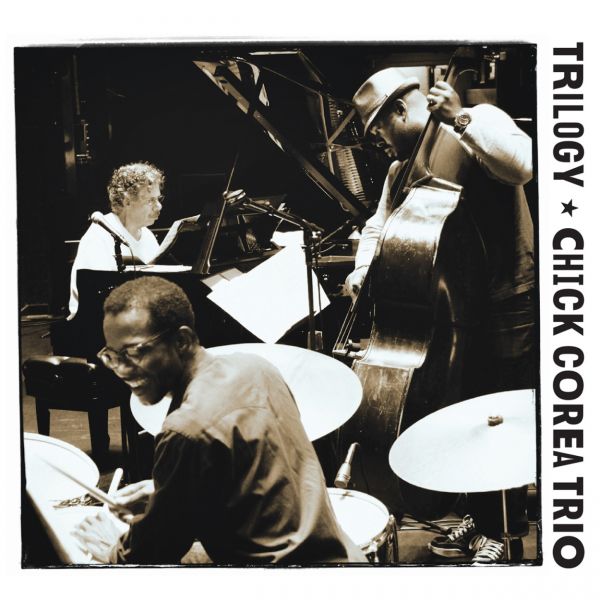 Are you ready for a great live jazz recording? If so, then check out Trilogy, the new 3-CD set by the Chick Corea Trio released by Stretch Records/Concord Jazz. Fans of the NEA Jazz Master and winner of 20 Grammy Awards will hear a variety of musical experiences as they traverse the musical world of the critically acclaimed trio consisting of Chick Corea on piano, Christian McBride on bass and Brian Blade on drums. The triple CD set offers everything from new arrangements of Chick Corea's revered jazz compositions to Great American Songbook standards and jazzed up versions of rare works from the classical repertoire.
What's cool? The 17 songs were captured from concerts performed across several time zones in North America, Europe, and Asia with special guests on three tracks. In Spain, the trio was joined by flutist Jorge Pardo and guitarist Nino Josele on "My Foolish Heart" and "Spain," while vocalist Gayle Moran Corea, the pianist's wife and longtime collaborator adds vocals to "Someday My Prince Will Come" while in Sapporo, Japan.
There are absolutely no signs of jet lag on this great 3-disc offering. Give a listen to the high-energy of "The Song Is You" which represents this smoking trio at its finest. The song embodies the traditional feel of this revered evergreen while offering listeners a fresh, contemporary take underlined by the clean lines of McBride's acoustic bass, Blade's creative brushwork and Corea's virtuosic pianism. Check out the beauty of "My Foolish Heart," which features Pardo and Josele lending this piece their artistic Spanish flavors alongside the trio's exceptional accompaniment.
"Fingerprints" is among the many exciting highlights of Disc One. During this song, the trio is incredible; the audience is going wild for the quality and depth of each player's solo and the trio's seamless interplay that makes you wonder whether these three have been playing together for years! The groove, colors, rhythmic finesse, and stellar re-interpretation given to this Corea original is simply awesome.
Rounding out Disc One is Corea's masterpiece titled "Spain." This lovely version features guitarist Nino Josele and flautist Jorge Pardo tapping into the spirit of Rodrigo and exploring the Iberian colors and rhythms that have flavored many of Corea's gorgeous songs. As the final trio concert of that particular tour in Madrid, Spain, the trio hovers at a comfortable temperature before burning up the stage with their fiery chops and brilliant improvisations. Clocking in at just over 18 minutes, this song is worth the price of admission alone! The audience heard the amazing arco bowing of McBride, Corea's perfect melody and extended improvisations, Blade's stellar percussion, as well as the guest musician's amazing visions that all transcend the history of this song. What a show!
In addition to having the opportunity to hear some of Chick Corea's greatest songs performed live, much of the pleasure in Trilogy is the multilevel sonic experiences and sensibilities heard from the virtuosi on the three discs. With songs as varied as "Fingerprints," to Chick's priceless masterpiece "Spain," from Disc One to "How Deep Is the Ocean?" from Disc Two to "Piano Sonata: The Moon," from Disc Three, Trilogy is a must-have for any music lover.