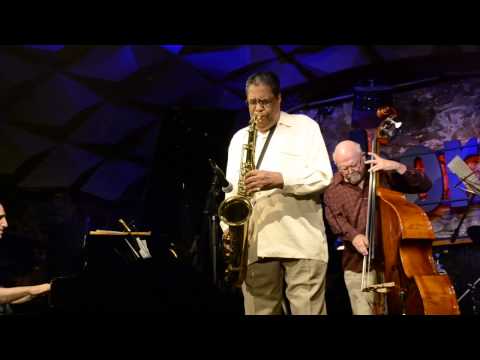 nuncaeslupus
There's not a lot on Charles Davis' June 3, 2014 release, For The Love Of Lori. But what is on this eight-track love song to his late wife gives proper due to straight-ahead jazz and the art of mourning gracefully.
Davis, 81, is a veteran, straight-ahead saxophonist who punctuates his chords like the masters. The list of recordings, over 100, he's been on is long and distinguished: Clark Terry's "Live At The Wichita Jazz Festival," Elvin Jones' "And Then Again," Kenny Dorham's "The Arrival Of Kenny Dorham," Ahmad Jamal's "Jamaica Farewell," Dinah Washington's "Dinah Sings Fats Waller," Billie Holiday, John Coltrane, Sun Ra, Archie Shepp… You get the idea.
The Mississippi-born/Chicago-raised/New-York-based musician's own recordings are a study in the straight-ahead genre, unwavering and deep. DownBeat's International Critics Poll honored him in 1964 with a best baritone saxophone win. He can play baritone, soprano, and tenor.
On For The Love Of Lori, Davis honors his late wife — who passed away in 2012 from cancer — on tenor sax in a short, solid, and sweet collection of standards and original compositions. Every song is pronounced with powerful control, yet tender emotion, and not an ounce of self-pity.
These aren't songs intended to tear at your heart. Some are uplifting and sure, "Begues" floors in swooning big band sound, while others delve into the intimate intricacies of conjuring up a feeling when Davis considers his wife in the title track. He commands on saxophone, but the other musicians are free to add to the conversation, and do so astutely on Putter Smith's "Begues," arranged by Michael Weiss. Pianist Rick Germanson guides the action forward as Davis jumps on one melodic tear after another, conscientiously. Drummer Neil Smith makes himself heard in his own jumpstarts.
It's not often a jazz artist nowadays so fully embraces straight-ahead jazz the way Charles Davis and his recording band do. It's nice to hear guys like Germanson, Smith, bassist David Williams, trombonist Steve Davis, and trumpeter Joe Magnarelli continue to uphold the fine legacy of this dying art, as most everyone else tries to update their status quo chasing after newer and crazier fusions.
This is real jazz as real jazz was meant to sound, without a lot of fanfare, gimmicks, bells, whistles, or excuses.
"Cedar's Blues" pays homage to another beloved passing, that of hard bop jazz pianist Cedar Walton, who died last year. Walton played on Davis' earlier Reade Street album, Blue Gardenia, and was supposed to do the same on this record. The musicians on Davis' record are a lot younger, yet instinctively take care to preserve the best of the spirit of the veteran musician. Germanson's arrangement of Walton's tune is particularly inspired. So is Williams, who once played in Walton's trio, and really pulls out a groove-within-a-groove tribute in his not-so-small solo — on bass.
Most of the record grooves along on a bounce and a spring to the steps — until the title track. "For The Love Of Lori" gets down, but in the most searing grip of helpless surrender. Pure adoration plays in every note from Davis' saxophone as he releases his sorrow, gratitude, and submission — almost tentatively, as if treading hallowed waters for the first time, feeling his way, afraid of breaking the fragile hold she has on him. With the sensitive, respectful echoes of his band mates, Davis tries to understand the loss, let go, and let the listener feel the beauty of his wife. It feels as if he's literally burning every last trace of his wife into him through his music, lightly though, so as not to shatter his beloved images. Germanson best mirrors Davis' delicate consideration, barely stroking the keys, depicting the grace of her existence in classical terms.
Charles Davis and his band can really translate the figurative into grand straight-ahead style, whatever the mood or the story. Thanks to the hiking trajectory captured on percussion by Neil Smith, Davis' original composition, "Into The Himalayas," feels as if the guys are trudging their way to exotic heights, with frequent Blue Note and 'Round Midnight stops.
"KD" is another Davis masterpiece, featuring the horns on point in every way, through every savvy, sashaying turn. They light up the night, especially Germanson, invoking standing room only clubs, jostling shirt-and-tie backhands, and a flow of endless cocktails. Abrupt, rustling, corseted turns on an imaginary dance floor, the song is one of the best examples of straight-ahead gone right.
Charles Davis can turn up straight-ahead with the best. He's one of the few veterans left from the golden era of jazz still able to transfix the crowd and keep the music from falling into dust. His For The Love Of Lori hits all the hard and soft spots. It's less a memorial, more a mix of songs she'd really dig.