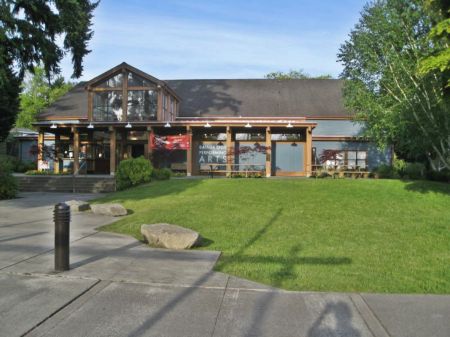 Kim Hastings
The good folks on Bainbridge Island are spoiled. They live on a beautiful island that covers only 65.02 square miles. With a population of just 23,196 traffic is three cars at a stoplight (unless someone is trying to get on a Seattle-bound ferry.) The average per capita income for those who live on the Island is among the highest in Washington. That ought to be enough but, no. They also host one of the finest theater operations west of Times Square. Bainbridge Performing Arts doesn't just put on a half dozen shows a year. BPA puts on one season after another in which excellence is an expectation and awards fill their ever-expanding trophy case. Theater-lovers on Bainbridge Island can look forward to another great season of BPA shows next year as announced Wednesday by the theater.
October 13-29, "Priscilla Queen of the Desert, the Musical." Based on the 1994 hit movie that starred Guy Pearce, Hugo Weaving, and Terrence Stamp, "Priscilla..." is a roadshow to Australia about glamor, friendship, identity, and the realization of dreams. This musical has been produced worldwide 21 separate times. A shortened production rode the waves as part of Norwegian Cruise Lines. Songs include "I've Never Been to Me," "Go West," and "Girls Just Wanna Have Fun."
December 1-17, "Chitty Chitty Bang Bang." In 1968, a generation of movie-lovers fell in love with Dick Van Dyke and Sally-Ann Howe. They also fell in love with a vintage car. The movie version of "Chitty Chitty Bang Bang" was a smash hit all over the world. The play of the same name comes to Bainbridge Island during the 2017 Holiday season.  
March 9-25, 2018, "Peter and the Starcatcher."  This is the only play on the Bainbridge Performing Arts 2017-18 docket to be duplicated elsewhere in the South Sound theater family. Lakewood Playhouse opens the same show five days after it closes on the Island. Co-written by humorist Dave Barry Peter and the Starcatcher turns the Peter Pan story on its head. It won multiple Tony awards when it opened on Broadway in 2013, and should be a winner for the whole family.
May 4-20, "Bullets Over Broadway, The Musical." There isn't nearly enough Woody Allen in community theater. That's a shame. His spot-on writing and humorous dialog should be boffo box office in local theaters. BPA rights this wrong next Spring when they stage "Bullets Over Broadway, the Musical." This show only closed on Broadway after it had delighted audiences 189 times. Favorite songs include "Let's Misbehave," "(I'll be Glad When You're Dead) You Rascal You," and "I've Found a New Baby." In fact, there are 26 songs in the show, most of them from the period between World War I and 1930.
Summer 2018, exact dates to be announced, "Romeo and Juliet." Bainbridge Performing Arts continues its enormously popular "Bard at Bloedel" series with this heartbreaker from the quill of William Shakespeare. The picturesque Bloedel Reserve is the setting for this timeless tale of love, the conflict between families, and fatal angst that can best be realized by the young. BPA invites the play-loving public to see this show as theater was meant to be seen during the summer months. That would be under the stars on a warm Pacific Northwest evening. (Bring a light wrap.) Patrons of performance art played outside are welcome to bring lawn chairs or blankets.
Bainbridge Performing Arts is supported, in part, by Bainbridge Community Foundation and One Call For All. Regular subscribers and newbies alike are welcome to contact the theater at 206-842-8569 for information on season-ticket packages, flex passes, and the other programs hosted by the theater at 200 Madison Ave North, on Bainbridge Island.