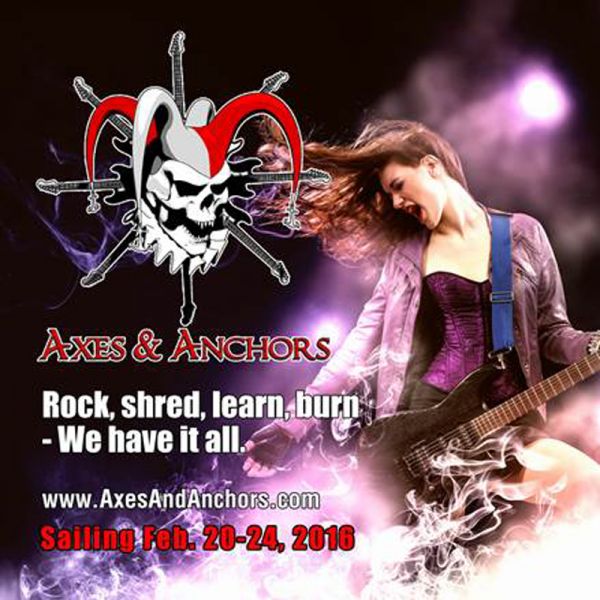 axesandanchors.com
Just a few years ago, performers like Rick Springfield and Sammy Hagar seemed pretty innovative hosting music cruises where fans were able to combine an actual full cruise itinerary with performances and meet and greet options with their favorite bands and artists. But of course once a great idea is hatched, similar opportunities will start coming out of the woodwork, and now-a-days everyone from KISS to New Kids On The Block has their own themed cruise, as well as cruise specials that feature several artists of the same genre - everything from jazz to classic rock, and of course, metal music too.
But every so often a new music-themed cruise will pop up that blows everything else away - - - one of which is the Axes & Anchors Cruise setting sail in February 2016. Departing Miami and docking in Key West, Florida and Nassau, the Bahamas but all that pales in comparison to the fact that some of rock and metal's highest ranking guitar-royalty will be aboard as well. Zakk Wylde (Ozzy Osbourne, Black Label Society), Yngwie Malmsteen, Michael Schenker (Scorpions, UFO, MSG), Alex Skolnick (Testament, Trans-Siberian Orchestra), Tracii Guns (L.A. Guns, Brides of Destruction), Gilby Clarke (Guns N' Roses,Slash's Snakepit), Tony MacAlpine (Planet X, Steve Vai), and Dario Lorina (Black Label Society, Lizzy Borden) - it's simply impossible to organize a cruise that's any more epic than this.
This five-day/four on-water extravaganza will hit the seas on February 20, 2016, and is said to include more than 40 performances, about a dozen free guitar workshops, gear demos from guitar product manufacturers, and a string of non-guitar oriented workshops as well. If you think that you need to be a serious guitar player to fit in on this bombastic cruise, think again! From fledgling musicians to photographers to band and tour managers, there's something for everyone upon Axes & Anchors. In addition to the guitar sessions, there will be workshops in the following categories as well: Rock photography, How to Write Lyrics, Tuning and Amplifying Your Sound, Sight-reading of Music, Voice Training, Glam/Metal Make-up, Clothing Modification, and more.
"For generations now, the guitar has remained a source of creativity and symbol of coolness, defying strange musical trends, poor economic forecasts and more, all the while providing a sonic backdrop to good times and bad," commented Testament shredder, Alex Skolnick in a press release, "I consider it a great honor to be joining Yngwie, Zakk and many other great players as part of Axes & Anchors, the very first cruise built around the guitar."
Click here to visit the Axes & Anchors Cruise Facebook page, and save up those doubloons because if you're a guitar lover then this is one music cruise that is not to be missed.