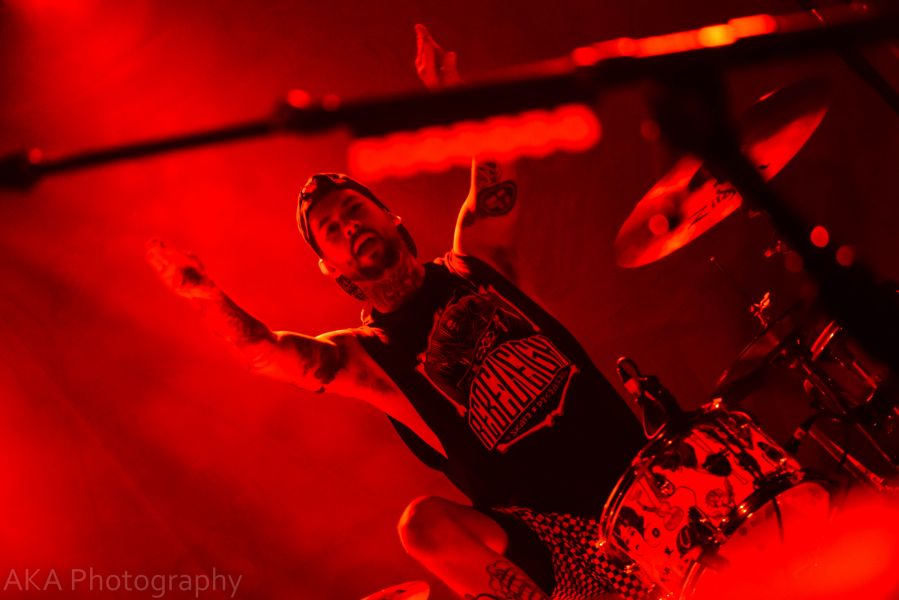 Photo appears courtesy of Adria Llerena.
Pierce the Veil has spent years perfecting both their music and live stage show as well as developing a devoted and passionate fanbase. They released their highly anticipated fourth album, "Misadventures" on Friday May 13, fitting for a band that values dramatic elements both live and in their music. 2016 is poised to be the band's biggest year as "Misadventures" debuted at number 4 on the Billboard charts and had a handful of their "Misadventures" tour dates sell out.
I had the opportunity to talk to Mike Fuentes, Pierce the Veil's drummer, over the phone before the start of their "Misadventures" tour. We talked about what goes into the song titles, lyrics and music, Harry Potter, and playing with one kick vs. two.
Hali Neal: How was the Mexico City show? That was your "Misadventures" release show, correct?
Mike Fuentes: Oh it was wild, yeah it was our release show.
HN: Why Mexico City over any other city?
MF: It's different, plus the energy down there is wild. We got to celebrate with 4,000 people singing the old songs as well as new. Plus it was our first time playing "Circles", so that was cool.
HN: The first time I listened to "Phantom Power and Ludicrous Speed", it made me think of that scene in "Spaceballs" where Dark Helmet is like 'prepare for ludicrous speed!' Is that where the title came from?
MF: You know it.
HN: Really? That is hilarious.
MF: We do a lot of 90s stuff in our music, like there was supposed to be a Beetlejuice quote before "Today I Saw The Whole World" and we tried to get the rights to it, but they said no, so.
HN: Your guitar riffs are always well structured, but I've been telling everyone Tony was on some next level stuff with the guitar riffs on this album.
MF: Yeah, you gotta make it pump and use your full energy. I get so upset when I don't hear guitar riffs, so we always make sure we get some in there.
HN: I love that breakdown on "Texas is Forever"… the sound of it matches perfectly with the 'don't chase your nightmares' bit. How'd you guys come up with it?
MF: We wanted something heavy but pretty sounding 'cause we didn't want the whole song to sound super mean. And we knew we wanted it to be fast all the way through. I grew up listening to punk rock so I get back with it on this, I get to do that a lot so it's heavy sounding. And yeah that's my bro, he's crazy. The music was done pretty quickly actually, it was just finding the lyrics.
HN: And how did those come about?
MF: He took trips around a bunch of different places to find lyrics. He used his personal experiences from the past couple of years but also wanted something original, nothing like the stuff we'd done, he wanted to keep pushing.
HN: Talk more about the decision to use a single kick in a genre dominated by double kicks?
MF: When I was little I loved punk and I still do, couple guys wanted me to switch, but I didn't want to play breakdowns all the time so I said "I'll figure it out with one pedal" and it defined our sound and made our style.
HN: Being interviewed by "Rolling Stone" is a pretty big deal… how'd that come about? What was your initial reaction when you heard they wanted to interview you guys?
MF: It was pretty crazy. This has been the most press we've ever had and it's comin' in like hotcakes. Vic did it [the interview], and he's gotten so good at it now.
HN: What was the best part of the interview?
MF: Oh, the intro where he said "this is so and so from 'Rolling Stone'.
HN: Kinda like, 'I cant believe this is happening right now', huh?
MF: Yeah. Another thing that was really cool was when we were in London for press at BBC1. They do live recordings there too and [classic post-punk band] The Smiths recorded there once, it was cool.
HN: Biggest drum inspirations?
MF: My dad took me to this drum set swap meet and that's where I discovered Buddy Rich. That was the first time I was blown away by what someone could do on a drum set. Buddy Rich was this self taught jazz drummer. Stewart Copeland from The Police was another big one. And when I started going to shows, I would watch every drummer live. First time I went to Warped, even if it was a band I wasn't into, I'd take away everything I could. I'd get as close to the drummer as I could at every stage so I could learn as much as I could.
HN: How involved are you in the lyric writing? I understand you're a little involved in it?
MF: Not too much actually, we leave it to Vic. He asks us for opinions and what we should call certain songs.
HN: Speaking of Vic, your lyrics are pretty dark, and I know a lot of fans have wondered if, when you first read the lyrics, do you ever get worried?
MF: [pauses for a second] Yeah I mean, it's always hard 'cause me Jaime and Tony go into the studio and let him be by himself, which can be scary because he's by himself. Sometimes we'll have to come in and tell him "you can't come up w it all by just these staring at four walls…" So yeah, we do get worried but we're always there to send back comments and he has our 100% support.
HN: Now to switch to a slightly less heavier topic, I understand you're a huge "Harry Potter" fan, what is it about the series that really drew you in when you first read/saw it?
MF: Oh yeah, I have a whole shelf in our guest room with a wand collection of eight different wands. I also had this "Harry Potter" drum set made and I took it on tour a few times. It's in the U.K. right now, but it has this Gryffindor snare drum wrapped in other characters. It's pretty awesome. What really drew me in was that J.K. Rowling was pretty much homeless, then she wrote these books and it basically saved her life. I also just loved the wizardry. I'm not a huge reader, I read the first couple of books, and some of the movies had some cool scenes and stuff like that.
HN: Favorite "Harry Potter" book/movie?
MF: Not a big reader, but I read the first couple of them. "Goblet of Fire" has to be mine, it was just like a cool Olympics for wizards.
I also just like the scene where he has to capture the egg from dragon… it's insane.
HN: I love that she went for it with the darker route the books took after "Goblet".
Been to the Harry Potter World in Orlando?
MF: [happily] Six times.
HN: What do you think of it?
MF: Oh I love it. There's one in LA too, gotta try it when I get back.
HN: What's one place you've always wanted to play but haven't yet?
MF: Hawaii. We've never played over there. I mean we've had offers, but I dunno if there's a scene over there. We'd like to play anywhere we haven't gotten to yet. We want to get to as many places as possible. Japan was actually the biggest culture shock. So cool to see fans in other places and doing what we love.
HN: Ever been starstruck?
MF: Pusha T, he's this rapper 'cause I'm also really into rap. I was at a festival and I was like "whoa, that's Pusha T". He was in Clipse and I listened to that record a lot so that's cool. Oh, and at Reading and Leeds. There was a bunch of artists but seeing Metallica was gnarly. I couldn't speak. I was a huge Metallica fan back in the day. They had a tent set up in the back with showers and black robes and then just jumped in the limo and took off. We need to get on that for our next tour [laughs].
HN: Yeah, I know a lot of these bathrooms/showers are small… I did Warped Tour last year and everyone had to share the one bathroom/shower. I actually did an interview with Neck Deep in there 'cause apparently that was something bands wanted to do [laughs]. It was tiny.
MF: Yeah, some places are so small that I'll warm up on a toilet with a practice pad.
HN: [laughs] Wow.
HN: What's a song or songs people wouldn't expect you to like?
MF: Justin Bieber's newest. I just love the production. It's that record that you want to hate it but it's so good you can't. Me and my girlfriend went to Florence and the Machine recently too and she's such a great artist. It was at the Hollywood Bowl and she just stood on the wall, barefoot. I love every kind of music, especially when the artist is really into their art and not just in it for social media.
The main reason we can do what we do is because the fans have stuck with us and have grown with us and it's how we can get to so many places now.
HN: Favorite concert?
MF: When I saw Thrice, Thursday, and Coheed and Cambria. Thrice is a band that influenced every single member of Pierce the Veil. Me and a buddy of mine drove three hours for that show, it was great.
HN: Yeah, All Time Low is that band for me. That's how I actually found out about you guys, by going to the Spring Fever tour. I'm from Miami originally and drove the four hours to Tampa for that show. Of course me and my friend got lost and we missed You Me At Six but---
MF: Aw, yeah You Me At Six are good dudes.
HN: Yeah, I saw them eventually like two years ago. Made a point of checking them out after I missed them at that show [the Spring Fever tour]. How did that lineup come about anyway? I know you [and All Time Low] hadn't really met before the tour.
MF: Yeah, we'd never met All Time Low before Warped Tour. We have totally different styles but we discovered that we have the same fans somehow. We met on Warped and talked to Rian and we found out they weren't assholes, and actually were sweet, cool dudes. We try to make sure we like all the bands on the bill. And with You Me At Six, we try to pick bands we think are up-and-coming and deserve it. That was such a fun tour. It's cool how music can make new friends.
HN: Yeah, like I've met a lot of my really good friends because of All Time Low shows.
MF: Yeah, we heard there have been meet ups at our mural in San Diego [too] and people have been finding new friends there. It's cool how that works.
HN: What got you into hip-hop? Favorite rapper?
MF: Before I got into rock music, I was into hip-hop like Bone Thugs-N-Harmony in sixth grade. I loved how fast they could rap, it sounded like they were rapping 100 MPH. I went to my first punk show in eighth grade and fell in love with the whole vibe of a show. I mean going to shows back then was kinda scary, but it was also like 'why are people beating each other up?' and it was so cool. I eventually started going to shows by myself and that's when I really fell in love with music.
HN: I heard that you're a self-taught drummer. How long did it take you to master everything to become the drummer you are now?
MF [bashfully]: I'm still learning every day.
HN: [smiles] I mean as someone who's touring versus someone who's only been playing for a year or so.
MF: Well it depends on how much you practice. I practiced til my hands were numb and my parents would tell me to take a break. Playing drums is all I cared about then and it's all I still care about. I was even jamming the new songs when I got back home.
HN: Advice to beginning drummers?
MF: Practice! Also, try what I did: watch other drummers. Even watch people giving lessons online. It's easier now to focus on practicing and learning other songs. There's something my dad taught me that I didn't really understand then but I understand more now: playing heart and soul. Taught me that music comes from the soul and the music me and my brother play means everything to us.
HN: Anything else you want to add?
MF: Pick up new record, it's out! And learn the words! [to me] Better see you at a show!
HN: Yeah, I'll be at the New York show probably 'cause there's no Florida dates but that's okay [smirks].
MF: Yeah I don't know why that is, but I have been getting threats over Twitter 'cause of it [the no FL dates].
HN: See that I don't agree with. So what made you want to play smaller clubs this time around?
MF: We wanted to play a more scaled down, shorter show before coming back for a big one in the States ASAP.
HN: All right, well thanks for the taking the time to talk to me.
MF: No prob, and thank you for the interview.